The Charles County Department of Health will be closed Thursday and Friday, November 23rd and 24th, 2023 in observance of Thanksgiving Day and American Indian Heritage Day. We will re-open on Monday, November 27, 2023 at 8:00 a.m.
Residents are asked to avoid travel and use caution while traveling on Route 254 approaching Cobb Island this weekend.
The National Weather Service, Sterling Office has issued a coastal flood watch for Charles County on Sept. 23 from Saturday morning through Saturday evening. Weather models indicate that tidal Potomac areas could see up to five feet of high tides due to the approaching tropical system. Coastal waters could cover the roads to the Cobb Island bridge and will be at its highest levels during high tides.  
High tide at Cobb Island is expected to occur at 9:20 a.m. and again at 9:37 p.m. on Saturday September 23.  For local businesses selling sandbags and sand, visit www.CharlesCountymd.gov/services/emergency-services/emergency-preparedness/sandbags.
Remember these basic safety tips: 
Turn Around, Don't Drown! ® 
Avoid walking or driving through flood waters. 
Just six inches of moving water can knock you down, and two feet of water can sweep your vehicle away. 
If floodwater rises around your car but the water is not moving, abandon the car and move to higher ground. Do not leave the car and enter moving water. 
 More information on flood safety is available at https://www.weather.gov/safety/flood or http://www.Ready.gov.
Severe weather notices are posted online at www.CharlesCountyMD.gov, www.facebook.com/CharlesCounty, and www.twitter.com/CharlesCoMD. Sign up for the Citizen Notification System at www.CharlesCountyMD.gov/services/alerts/citizen-notification-system to receive inclement weather and traffic alerts by text message, email, or phone. For information on power outages, view the SMECO outage map at stormcenter.smeco.coop or call 1-877-747-6326 to report a power outage.  Call 9-1-1 in the event of an emergency.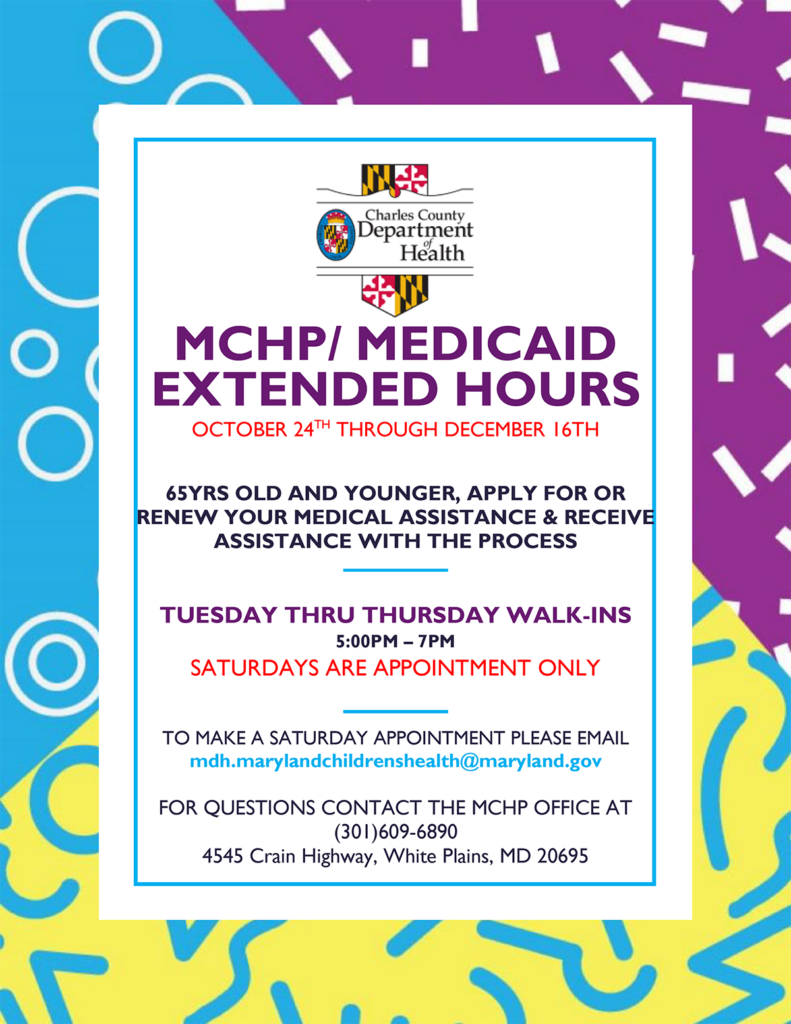 The CDC can provide tools to assist in the removal of ticks and finding healthcare after a tick bite. Click the "Get Started" button to access these tools and resources.
-ALERT-
The Maryland Security Operations Center is investigating a network security incident involving the Maryland Department of Health. The Maryland Department of Information Technology, the Maryland Department of Health, and the Maryland Department of Emergency Management are working closely with federal and state law enforcement partners to address the incident and to gather additional information. Certain systems have been taken offline out of an abundance of caution and other precautions have and will be taken.

Flu Vaccination Clinic Schedule

Flu vaccines are available at every COVID-19 vaccination clinic through June 30, 2023.
2023 December
MO

TU

WE

TH

FR

SA

SU
27

28

29

30

1

2

3
4

5

6

7

8

9

10
11

12

13

14

15

16

17
18

19

20

21

22

23

24
25

26

27

28

29

30

31
1

2

3

4

5

6

7
Events for December
1st
No Events
Events for December
2nd
No Events
Events for December
3rd
No Events
Events for December
4th
No Events
Events for December
5th
No Events
Events for December
6th
No Events
Events for December
7th
No Events
Events for December
8th
No Events
Events for December
9th
No Events
Events for December
10th
No Events
Events for December
11th
No Events
Events for December
12th
No Events
Events for December
13th
No Events
Events for December
14th
No Events
Events for December
15th
No Events
Events for December
16th
No Events
Events for December
17th
No Events
Events for December
18th
No Events
Events for December
19th
No Events
Events for December
20th
No Events
Events for December
21st
No Events
Events for December
22nd
No Events
Events for December
23rd
No Events
Events for December
24th
No Events
Events for December
25th
No Events
Events for December
26th
No Events
Events for December
27th
No Events
Events for December
28th
No Events
Events for December
29th
No Events
Events for December
30th
No Events
Events for December
31st
No Events